WebPage Class Information
---
Welcome to the music webpage!!!!!!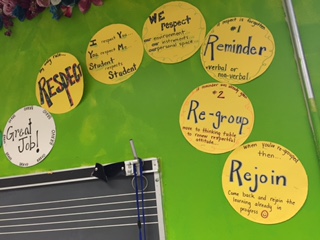 I look forward to working with your children this year!!
Chorus applications are due by Thursday 9/10/15...children should look for their acceptance letters to come on Friday.
Talent show audition applications are now located outside of Ms. Staci's door. Auditions are coming up very soon, so get those applications in ASAP.
Need to contact me?
Staci Kelly Pendry
630-6540 ext 1016
pendrys@duvalschools.org
Pre- K and Kindergarten
We are working on developing a love for music! Students have started their first rotation on the xylphones and metalophones and are starting to feel the steady beat.
1st grade
We are working on singing and playing the xylphones while counting out loud to ten. We are also working on listening to and playing as a group.
2nd/3rd grade
We are learning about high and low on the xylophones and metalophones. We are reviewing correct mallet technique along with working to make a beautiful sound as an ensemble.
4th/5th
We just took our begining of the year pre-test for music. They will take the same exam at the end of the year to show the growth they have made this year. Our first lesson will focus on the language of music, decoding and understanding the names of the lines and spaces of the treble clef staff,
WebPage Teacher Information
---
My Biography...so far :)

Staci Kelly Pendry has been teaching music for 15 years. She is a graduate of Palatka High School and obtained her bachelors of music education degree from Stetson University in 2000. Ms. Staci has been performing publicly since 1994. She has performed several oratorios including Handle's Messiah. She played the lead female role in the musicals Hello Dolly and The Music Man. She has also performed in a number of operas including Puccini's Suor Angelica, Mozart's The Marriage of Figaro and played Belinda in Purcell's Dido and Aeneas. Ms. Staci has received her Orff Levels I, II and II training. She has given several presentations to the Duval County Elementary Music teachers, and has presented at the Florida Music Educators Association conference in Tampa, Florida. She was named teacher of the year at John E. Ford in 2008 and made it to the top 10 in the county! Ms. Staci is a member of FMEA, FEMEA, AOSA, FVA, MENC, PTA and The Lego Club! Ms. Staci LOVES to go fishing and would fish every weekend if she could! Her other favorite pass times include drooling over Mustangs (the car), watching Star Trek TNG and playing Words With Friends. Ms. Staci is married to an amazing man, who currently teaches chorus classes at Lavilla SOTA. She has a 9 and 11 year old son who make her smile everyday. Her next goal is to win the lottery so she can buy her dream car, a 2007 Ford Mustang GT in Grabber Blue. Ms. Staci is currently teaching music to eager pre-kindergarten through eighth graders at John E. Ford K-8 School.